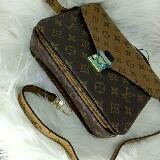 Tika Niccia
@prelovedcias
4.9
(124)
Jakarta Pusat   ∙   Joined 7y 27d
Verified
Very Responsive
Via gojek or JNT express, WAHANA H+3,sicepat >>real pict gapake tipu tipu Bisa cod sesuai ketentuan owner! I will blocked you if you hit and run !! No return ! No nawar sadis no customer yang banyak cingcong tapi nawar gila2 an !! Anda sopan kami segan !
prelovedcias follows
@prelovedcias is not following anyone yet.
Looking for users to follow? Browse the marketplace to discover listings from sellers you may like!