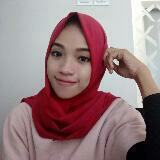 Rizky Azhar
@prelovedbykiky
Jakarta Pusat   ∙   Joined 7y 7m
Verified
New & preloved stuff No hit n run/trusted WA. 081806276093 Payment via BCA JNE/JNT/Wahana Pengiriman hanya sabtu-minggu
Reviews
Akhirnya setelah ditunggu berminggu2, tiba2 ngirim foto struk pembayaran 😁😁😁 thank you ya sistaa.. ☺️☺️

HIT AND RUN! becareful with this girl. Ga ada kejelasan sama skali. Udah deal mau beli dan transfer tp ditunggu cuma php doang. Sengaja ga di read pas ditagih. Gapapa, semoga rejeki mbak nya ga ketunda2 ya. Kalopun ketunda, karma does exist..

Thanks for buying from me! Hope u like the BLP Lipcoat :)

Pembeli terpercaya untuk bertransaksi! Sesuai janji dan tepat waktu! Transaksi yang menyenangkan! Balasannya cepat. Terima kasih!

trusted buyer, easy to deal.. feel happy cause she was so kind 😊

Hit & run nya kebangetan. Udah diusahain ambil barang kerumah biar bisa cepet ngirim & telpon courier untuk pick-up krn bilangnya mau trf abis itu ngilang ktnya lupa. Di follow-up blg jadi order dan mau trf, tp ngilang lagi. Semoga rezeki dia ke saya, sialnya saya ke dia. 🙏🏼

Trf Sabtu pagi blg mau dikirim Sabtu malam, smp hari Senin kutanya sdh dikirim blg sdh kmren Sabtu. Rabu minta resi tdk dibls. Barang baru smp Jumat siang ternyata dikirimnya baru Rabu kmren. Saat chat saya konfirmasi luar ada baret/retak tdk bilangnya dijamin ga ada, pas smp sepatunya udh retak rusak. Lebih baik blg sejak awal sis, semoga lebih baik. Thank you!

HIT & RUN. kalau ga niat jgn habisin wktu org sissy. sama2 berjualan hrsnya punya etikanyaa trima kasih 😊

Kty udh d krm dr kamis tgl 2 maret sore, d ttg" brg g dtg, d ty resi susah bgt,sampe blng aku yg ribet,,haii mba yg kty py online shop resmi, wajar lah ribet org brg g nyampe",, akhr nya tgl 6 maret ksh resi jg dan d resi tertera brg baru d kirim tgl 5 maret,,lain kali klo belum d kirim jujur aja mba,,klo kty py online shop resmi kudu nya propesional, jgn pke blg aku yg ribet hahaha,,thx :)

Di keterangan barang "very good condition" tapi sebelah pantatnya banyak noda paraaahhh di bagian depan celana jg ada noda kuning. Tidak sesuai penjelasan sist nya. Kecewa

Great seller to deal with! Item delivered as described. Thank you!