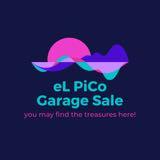 D
@elpicogaragesale
Jakarta Selatan   ∙   Joined 2y 9m
Verified
hope that you can adopt and love these items ❤️ 💯 Autenthic Items Only 📍JakSel & BSD City 🤩 Limited Items 🛍 Serious Buyer 📸 Real Pic 🌟Goods that have been purchased cannot be returned, make sure you have seen the detailed image and description.
Reviews
amanah barang bagusss

Casio Baby G TOSCA REPRICE

Rp 800,000

Barang sesuai deskripsi bagus dan baru.recommended

Tory Burch Flat Shoes Gold GHW Authentic n Terjangkau!!

Rp 2,000,000

Happy belanja disiniii, sistanya super baik & barang2nya cucook 😍 💕

Gucci Dionysus Blossom REPRICE Murah

Rp 13,500,000

Thankyou banget sis, barangnya udah nyampe dan packingnya super save bgttt. Sisnya juga ramah pake bgt, mau direpotin segala macam, jelasinnya jg sgt detail sekali. Pokoknya worth it belanja disini. love ❤❤

Samsung S8 plus

Rp 2,000,000

Belanja ke 2x semuanya ok thank u sis 😊

Gucci Padlock Top Handle Bag MURAHH

Rp 14,000,000

maringka

review from buyer

∙

2 years ago

good seller... ramah, respon cepat, barang Mulus, kakaknya syantikkk lagiii.. 😁

GOPRO HERO 7 BLACK MURAH bonus 3 Way Tripod Bonus Memory Card!

Rp 3,900,000

Seller baik bangett, fast resp, barang muluss makasii💕

elpicogaragesale

3 years ago

Thanks ❤️❤️❤️

bsw1101

review from buyer

∙

3 years ago

terima kasih kakak, terpercaya banget deh, barangnya bagus dan komunikasinya aseeek👍

Very nice seller,, my second stuff after kenzo,, soo will be adopt another stuff,, ;p

Seller nya asik,, negoitable,, ramah, absolutely recomend

felixxtc

review from buyer

∙

3 years ago

Good deal! Fast response seller and sell original items. Recommended seller 👌🏻

seller profesional barang bagus banget sesuai dgn foto mbaknya cantik dan profesional, no basa basi dan cekatan, thank you so much for the deal

sesuai deskripsi, brg ny masi bgus. seller respons nya ok juga 👍🏻👍🏻

Fast respon, seller baik dan komunikatif jangan ragu mau transaksi sm seller yg satu ini Thankyou!