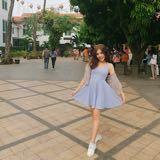 Cintya Theresia
@cintyathrs
No ratings yet
Depok   ∙   Joined 7y 6m
Verified
💕Barang selalu di laundry bersih sebelum dikirim. 💕Pengiriman dari Depok by J&T. 💕Belanja MINIMAL 100.000, free ongkir utk wilayah Jabodetabek. 💕Transfer maks. jam 4 sore, barang dikirim hari yang sama.
cintyathrs follows
@cintyathrs is not following anyone yet.
Looking for users to follow? Browse the marketplace to discover listings from sellers you may like!