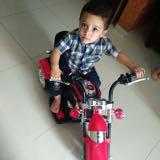 @bqonita
Sleman   ∙   Joined 5y 2m
Verified
Reviews
wimbiayu

.

review from buyer

4 years ago

Mbaknya baik ramah bgt. barangnya oke cepat bgt dikirimnya. thnkyuu

terimakasih sudah membeli, ditunggu untuk next order nya 💗

Owner ramah plus bisa diajak negosiasi dengan baik :)

Great seller to deal with! Barang bagus, sesuai foto & deskripsi. Pengiriman cepat. Fast response, seller ramah. Jangan ragu belanja di sini. Thanks!

indahpss

.

review from buyer

4 years ago

penjual yang baik ramah mbak nya cantik bgtt kek ayibb, bisa dinego. dikasih harga murah bgtt makasihh banyak mbak 🙏🙏

So happy! Bisa nemu skincare kesayanganku disini dan dikasi harga nego. Baik bgt

Great seller to deal with! Prompt delivery! Item delivered as described Pleasant transaction! Thank you! Barangnya masih bagus dan harganya terjangkau bgt. Makasi ya siis

Fast respon bangettt, barang juga cepet sampe dan selalu mastiin shipping mulai dr ngasih resi sblm diminta dan mastiin barang sampe nyampe ! Definitely a great seller ♥️♥️

Penjual yang serius dan terpercaya! Barang jualan diterima sesuai dengan deskripsi. Transaksi yang menyenangkan!

Great seller to deal with! Ramah & ga neko2. Isinya sesuai dengan deskripsi masih banyakk thank u sistt

Seller nya super ramah udah gitu fast response XD kebetulan COD dan ontime bgt trs dikasih free sample pula :)))) sukses trs buat sellernya

Great seller to deal with! Baik trs respondnya cepet maaciiii

pyuries

.

review from buyer

5 years ago

Thank u ya sis.. Penjual yang baik! barangnya sih belum sampe tapi rasanya pingin buru2 nulis testi. karna penjualnya ramah dan fast respon Terima kasih!

Great seller to deal with! Speedy replies. Thank you!