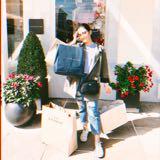 Tryartha Sonny
@belanjairit
4.8
(48)
Jakarta Timur   ∙   Joined 3y 10m
Verified
Not Responsive
Jangan ragu, jangan bimbang Semua yang dijual di sini, masih bagus. Ada yang preloved, ada yang belum pernah dipakai sama sekali. Mau belajar nabung lebih banyak, bantu ya. Yuu liattt liaattt. Open barter
Reviews
4.83
(48 Reviews)
Parah barang ku gak dikirim !! ..chat ga dibls !! 😪...ati2 deh klo mau bli disini...

White Musk The Body Shop

Rp 150,000

sky.be

.

review from buyer

2 years ago

thank u barang diterima dengan baik GBU sis.. recommended n trusted seller 😇🙏

Order ke3 kali selalu suka🤍

Jaket Denim The Executive

Rp 50,000

kaka nya baik dan ramah, barang bagus sesuai deskripsi, terima kasih ka sudah mau nunggu aku yg tf nya agak lama💞

flo2288

.

review from buyer

2 years ago

Seller super ramah, outer kebayanya cantikk. trusted and recommended Seller 💕💕

Outer Kurung Tile Bunga Nempel

Rp 60,000

seller baik.. packing rapih.. semoga laris manis ya sissssss.. thankyouuuuuu

Elformula 28 Days Miracle Whitening Solution

Rp 200,000

barang nya beneran masih bagus banget. owner nya juga fast respon dan ramah. tapi sayang, ternyata agak ngatung di aku 😅

Kain Lilit Batik

Rp 20,000

wninggar

.

review from buyer

2 years ago

langsung pake donks, cepet beeud sampenya sehari ajah pdhl freeong

My Dear Body Lotion Varian Always Yous

Rp 50,000

penjual ramah,tawar menawar nya enak,barang bagus sesuai harga.. makasih ya 😊🙏

inezgani

.

review from buyer

2 years ago

The best seller Good service, fast to respons I love it! Recomended! Thanks sis😘👍

#Special1010 Lionelli Black Shoes

Rp 40,000

great seller, fast respon, sesuai diskripsi dan pengiriman cepat. trims ya sis

#Special1010 Gelang Pontianak Coklat

Rp 10,000

good deal bgt! thanks ya sis, pengirimannya jg cepet dan fast respond bgt!

Bagus, murah, & dikasih freeong 🥰 Thx sist

Highwaist Sky Blue Jeans

Rp 25,000

makasih ya kak,jam tangannya bagu s banget ori lagi,ga nyesel deh belanja di seller ini,buat yang belum ayo buruan sebelum ke habisan,bisa codan pula,orangnya ramah dan jujur.

Alexander Christie Black

Rp 250,000

Masnya keliru bikin review ya. Sudah dikonfirmasi via chat. Niat masnya mau bikin 5.0, tapi krn masnya kurang paham cara leave review, jadinya salah. Commentnya tetep bagus kok. Makasii ya mas. Gak apa apa kok. Sukses terus mas.

sendalnya masih bagus banget... like new.. tapi sayang longgar sebelah 😭. yang kanan nyangkut, yang kiri nggak 😕. syg banget ga bisa dipake.. padahal baguuuusss... sisnya juga baik.

Rubi Sendal Merah

Rp 30,000

Ini Mbanya keliru bikin review ya. Udah dikonfirmasi lewat chat. Katanya sih mau bikin nilai 4,7. Tapi salah pencet. Gak apa apa. Makasiii.