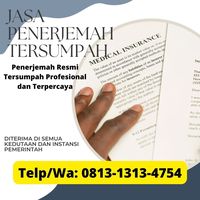 Jasa Penerjemah Tersumpah
@JasaPenerjemahTersumpah
Jakarta Pusat   ∙   Joined 5m 23d
Verified
TERJEMAHAN BERSERTIFIKAT, 0813-1313-4754, Jasa Penerjemah Tersumpah Di Jakarta Pusat, Jasa Penerjemah, Penerjemah Dokumen, Penerjemah Tersumpah, Jasa Penerjemah Tersumpah, Jasa Translate, Penerjemah Bahasa Mandari #JasaPenerjemahTersumpahDiJakartaPusat,
JasaPenerjemahTersumpah is followed by
@JasaPenerjemahTersumpah is not followed by anyone yet.
Looking for users to follow? Browse the marketplace to discover listings from sellers you may like!